Hemorrhoids and other ano-rectal conditions
Are you embarrassed to discuss your ano-rectal problems? 
Most people are and you don't have to be.  Dr. Harris can put you at ease and you may find it easy to finally get relief!
Hemorrhoids commonly known as "piles"are enlarged veins in the area around the anus. They can be felt as fleshy extra skin or very hard and painful when clotted.  Most hemorrhoidal conditions can be treated medically and do not require surgery. If surgery is required, generally this can be done either as an office or ambulatory (no hospitalization) procedure under local anesthesia.
Common patient complaints leading to consultation with Dr. Harris and a diagnosis of hemorrhoids:
Anal bleeding
Pain
Mass, swelling or lump around the anal area
Skin tags
Discharge
Itching
Leakage (incontinence)
There can also be other causes of symptoms in this area of the body:
Anal fissure
Abscess
Anal fistula (Fistula-in-Ano)
Proctitis
Herpes
Anal Condyloma (Warts)
Should you require surgical treatment, the majority of these conditons require a brief surgical  procedure usually lasting about half an hour.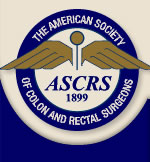 Dr. Harris is a member of the American Society of Colon and Rectal Surgeons as well as the New York Society of Colon and Rectal Surgeons.